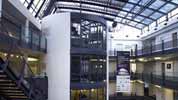 max planck institut
informatik

Lecture "Web Dynamics"
Dr.-Ing. Ralf Schenkel
,
Dr. Marc Spaniol
Content
Today's Web is a highly dynamic and evolving source of information. The lecture shows how to deal with this dynamics, including modeling the evolving Web, exploiting temporal variances for more effective retrieval, and collecting and archiving snapshots of the Web.
Organization
Certificates are available in room 402 in the MPI building (E 1.4).
The re-exam took place on Wednesday, October 7, and Thursday, October 8.
The oral exams took place on July 28, July 30, and July 31 in room 433 (rotunda 4th floor), building E1.4. The final grade for the course is determined only by the result in this exam.
Lecture: Thursday, 12:15 - 13:45, room 003, building E1.3 (starting April 23)
Exercises: Monday, 16:00 - 17:30, room 022, building E1.4 (first assignment available May 7 - hand in May 14 - first exercise group May 18)
Prerequisites
Students planning to attend the course should have some knowledge about information retrieval (successful participation in the course on Information Retrieval and Data Mining is fine), even though we will introduce all necessary concepts and techniques in the lecture. Students should also be able to write simple programs in Java.
Requirements for the certificate
You must successfully participate in an oral exam at the end of the semester (probably July 30/31)
You must successfully solve the practical assignments
You should actively participate in the excercise group
Slides
Assignments
Additional Material
Julien Masanes (Ed.): Web Archiving, Springer, 2006
Pierre Baldi, Paolo Frasconi, Padhraic Smyth: Modeling the Internet and the Web, Wiley, 2003
Mark Levene, Alexandra Poulovassilis (Eds.): Web Dynamics, Springer, 2004
a detailed list of references for each chapter will be provided in the slides