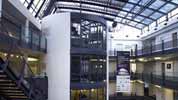 max planck institut
informatik

Seminar "Social Networks"
Organization
There will be an additional block seminar on February 17 and 18, 2010, with the same topics; see here for details. The block seminar has been completely filled with students from the waiting list of this seminar.
Topic assignments have been made, all topics are taken.
The first meeting, including registration, took place on Wednesday, October 14, at 16 c.t. in room 433, building E 1.4.
Regular meetings are on Wednesdays at 16 c.t. in room 433 (rotunda 4th floor), building E 1.4, starting November 11..
Prerequisite for attending the seminar is some knowledge of information systems in general. We recommend that participants have successfully participated in the basic course "Informationssysteme", in a database systems course, or in a course on information retrieval.
We checked that any linked papers are available from the MPI-INF network (last check: October 7, 2009, 2pm). If you encounter any problems accessing a paper, please contact us.
Here are the slides from the first meeting.
Contents of the Seminar
The seminar discusses current research issues in social networks, including data management, retrieval, analysis, and mining of social networks.
Requirements for the Certificate
Schedule

Networks

Wednesday, November 11, 2009, 16:15:

Thomas Dackweiler

(tutor Ralf Schenkel, opponent Andrey Tarasevich)
Wednesday, November 18, 2009, 16:15:

Xiaoqi Cao

(tutor Ralf Schenkel, opponent Michael Kaczmarczyk)
Recommendations

Wednesday, November 25, 2009, 16:15:

Christina Teflioudi

(tutor Ralf Schenkel, opponent Chengli)
Wednesday, December 2, 2009, 16:15:

Julia Wolf

(tutor Sebastian Michel, opponent Fatemeh Shirazi)
Search

Wednesday, December 9, 2009, 16:15:

Cheng Li

(tutor Sebastian Michel, opponent Christoph Pinkel)
Wednesday, December 16, 2009, 16:15:

Michael Kaczmarczyk

(tutor Sebastian Michel), opponent Shujie Li
Tagging

Wednesday, January 6, 2010, 16:15:

Thomas v. Bomhard

(tutor Sebastian Michel, opponent Christina Teflioudi)
Wednesday, January 13, 2010, 16:15:

Shujie Li

(tutor Sebastian Michel, opponent Julia Wolf)
New Applications

Wednesday, January 20, 2010, 16:15:

Andrey Tarasevich

(tutor Ralf Schenkel, opponent Xiaoqi Cao)
Wednesday, January 27, 2010, 16:15:

Fatemeh Shirazi

(tutor Ralf Schenkel, opponent Thomas Dackweiler)
Wednesday, February 3, 2010, 16:15:

Christoph Pinkel

(tutor Ralf Schenkel, opponent Thomas v. Bomhard)