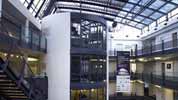 max planck institut
informatik

D5 Oberseminar
Date and Place: November 24, 2014 from 14:00 to 16:00. Room 024, Max-Planck-Institut für Informatik (E 1.4)
Students present their current work (15 min talk + 5 min discussion).
If you have any further organizational questions, please contact Klaus Berberich.
For questions regarding the content of your presentation, please contact your supervisor.
Schedule
| Time | Speaker | Title |
| --- | --- | --- |
| 14:00 - 14:20 | Tetiana Zinchenko | Redescription Mining Over Non-Binary Data Sets Using Decision Trees |
| 14:20 - 14:40 | Abdalghani Abjuabal | Mining Past, Present, & Future |
| 14:40 - 15:00 | Alejandro Sierra | Ad-hoc Information Retrieval Using Annotated Queries and Documents |
| 15:00 - 15:20 | He Wang | Retrospective Summarization: What Did I Miss? |
| 15:20 - 15:40 | Basileios Anastasatos | Efficient Algorithms and Implementations of Boolean Tensor Factorizations |