Music Processing
Advanced Seminar Informatik, Winter semester 2009/10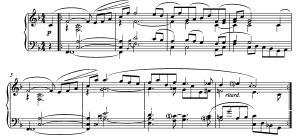 Time

Winter term 2009/10, biweekly, Thu. 15-18

Place

E1.4 (MPI), Room 24

Instructor

Tutors
---
Content
In this seminar, we discuss a number of current research problems in the fields of Music Processing and Music Information Retrieval (MIR) including:
Performance Analysis
Chord Detection
Music Segmentation
Cover Song Identification
Audio Matching
Onset Detection
Beat and Tempo Tracking
For a description of the topics, see PDF.
---
Course requirements
The seminar particularly addresses participants of the course Music Processing with a good understanding of the lecture's content. Requirements are a solid mathematical background, a good understanding of fundamentals in digital signal processing, as well as a general background and personal interest in music. The seminar is accompanied by readings from textbooks or the research literature. Furthermore, the students are required to experiment with MATLAB.
---
Course material
Textbook:

Meinard Müller
Information Retrieval for Music and Motion
318 p. 136 illus. 39 in color, hardcover
ISBN: 978-3-540-74047-6
Springer


Relevant material will be handed out on an individual basis.
---
Dates and Times for Presentations
Dec. 03, 15-18
Dec. 10, 15-18
Dec. 17, 15-18
Jan. 14, 15-18
Jan. 21, 15-18
---
© 2009 Meinard Müller
Oct. 07, 2009 06:00:00 PM