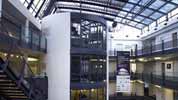 max planck institut
informatik

D5 Oberseminar, summer semester 2015
Date and Place: 17 September 2015 from 14:00 to 17:30. Room 024, Max-Planck-Institut für Informatik (E 1.4)
Students present their current work (15 min talk + 5 min discussion).
Coffee and refreshments are serverd during the break.
If you have any further organizational questions, please contact Pauli Miettinen.
For questions regarding the content of your presentation, please contact your supervisor.
Schedule
Time
Speaker
Title
14:00–14:20
Angeeka Biswas
Retrieving Web User's Personal Information
14:20–14:40
Kailash Budhathoki
Correlation by Compression
14:40–15:00
Agim Kopali
Mitigation of Privacy Risk for Search Queries
15:00–15:20
Panagiotis Mandros
Information Theoretic Feature Selection for Continuous Data
—Coffee break—
15:50–16:10
Kaustuv Chakrabarti
K Shortest Path Algorithms with Diversity Constraints
16:10–16:30
Stefan Neumann
On Some Problems of Rounding Rank
16:30–16:50
Dominic Seyler
Question Generation from Knowledge Graphs
16:50–17:10
Mohamed Gad-Elrab
AIDArabic+: Named Entity Disambiguation for Arabic text